Internet Download Accelerator 3.1 - DL-Manager
Steuern Sie Ihre Downloads ab sofort mit einem Download-Manager und Sie haben keine Probleme mehr mit abgebrochenen Downloads, denn diese setzen Sie beim Einsatz solcher Tools einfach an der Abbruchstelle fort.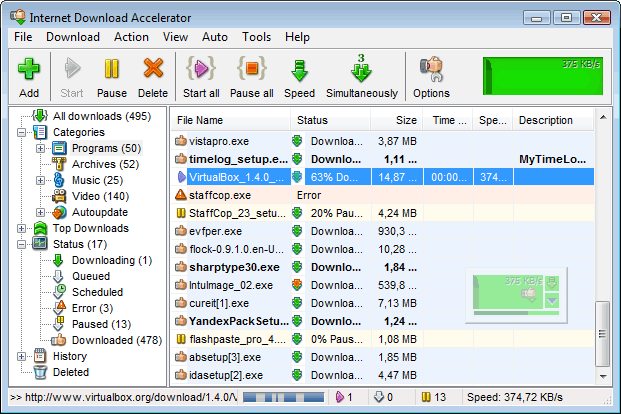 Das sind die Features:
- intuitive, user-friendly, and customizable user interface;
- download lists support with rich sorting options;
- the floating window including download speed indicator, active downloads indicators, cart for dragging links;
- original Active Visual Cart technology which lets you to work with IDA without opening the main program window;
- skins support;
- Fast Update - check for availability of new versions of the program;
- languages support.
- dynamic multi-threaded download;
- resumes broken downloads from where they left off from both HTTP, HTTPS and FTP servers;
- sheduled operation, PC shutdown after completing download;
- optimal settings for work with various connection types (dial-up, ISDN, ADSL, LAN) at various speed;
- support for download mirrors;
- power and useful tool for management of download categories;
- ability to review the contents of a ZIP archive before download and choose which files to download from the archive;
- detailed log-file for every download;
- site manager for passwords and download folders management;
- download speed control, automatic mode for the most comfortable browsing on the Web. Manual mode for dynamic control of download speed;
- option to set priorities for downloads;
- content recognition when working through HTTP;
- work with command-line;
- dial for dial-up connection;
- search for files, programs, games, and music;
- Smart Pause/Start. Ability to temporarily stop current downloads with option to start them later in the same order and state;
- rich options of tuning connection parameters HTTP, HTTPS and FTP
- work behind HTTP and FTP proxy-servers, support for NTLM and NTLM-proxy authentication. IDA can automatically detect and use your browser's proxy-server settings;
- option to play streaming audio and video files while they are being downloaded. Automatic receipt of information about MP3 files when starting download;
- downloads history;
- option of dragging selected text from browser or another program onto the floating window. IDA will find links in the text and offer you to start download;
- ability to drag download description text from another programs. Automatic insertion of the text selected on a page opened in IE into the download description.
- search in the download list;
- option of automatic synchronization of files on servers and your computer (autoupdate);
- checking downloaded files for updates (manually or automatically);
- marking downloaded files as unread;
- wide download list export/import options. Supported formats: *.txt, *.txtd, *.lst, *.urls, *.ion.
- intellectual multi-section download. Internet Download Accelerator dynamically splits a file being downloaded into several sections and downloads all the sections at the same time. It increases the speed of download up to 500%;
- automatically restarts download when download speed decreases which helps to avoid stoppage;
- integration with Microsoft Internet Explorer 4.0 and above, Nescape 6.0 and above, Mozilla, Opera 4.0 and above;
- monitoring the clipboard;
- integration with anti-virus programs;
- toolbar for Internet Explorer.
News-Submiter:
Verkaufspreis:
Das Programm ist Shareware und kostet 24,95$.
Weitere Infos:
www.westbyte.com
Download:
Software-Download
---
Bedenken Sie bevor Sie einen Kommentar schreiben, dass Kommentare nur im unmittelbaren Zusammenhang mit der News stehen sollen - für andere Sachen ist das Forum da - WinFuture.de behält sich vor, unpassende Kommentare zu löschen und im Wiederholungsfall oder bei verbalen Entgleisungen dem WinFuture-Gast ggf. die Kommentarrechte, temporär oder auf Dauer zu entziehen!