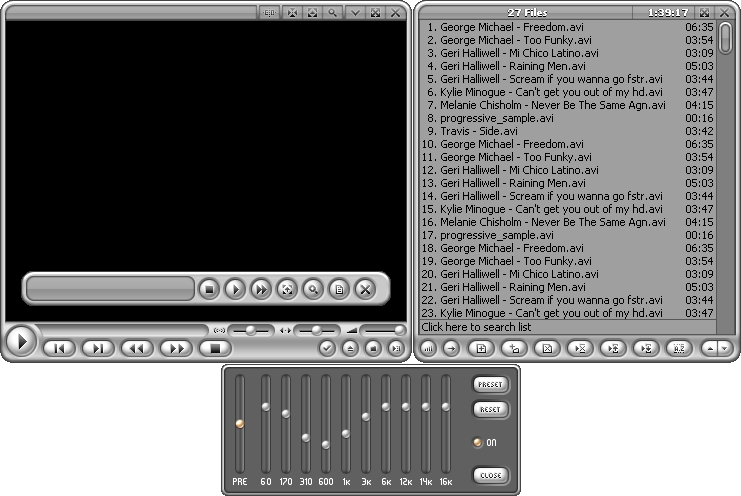 (Durch einen Klick auf den Screenshot wird dieser vergrößert dargestellt!)
Das sind die Veränderungen in der aktuellen Build:

Along with Dimitar Pankov, I've formulated a structure in which Masked Automatic Segment loading works.  By specifying a mask string, you can control how additional Media File Segments will be loaded automatically into the Play List. The formula is pretty flexible, allowing you to specify multiple masks which can include both a prefix and a suffix.  For Example, "?of" would work for "My Video 1of2.avi"  -> "My Video 2of2.avi" "CD?" would work for "My Movie CD1.avi"   -> "My Movie CD2.avi" "[?"  would work for "Movie [1 of 2].avi" -> "Movie [2 of 2].avi" "(?"  would work for "Movie (1 of 2).avi" -> "Movie (2 of 2).avi" And so forth...  Auto Segment Load is optional under "Options / Values / Other" and can slow down play list loads when dealing with massive play list (1000's of items, no slow down on on small play lists).

Zoom Player now supports ShoutCast Radio Streaming.  You'll need Gabest ShoutCast Filter which can be found here: http://sourceforge.net/projects/guliverkli
Once registered (start->run->"regsvr32.exe shoutcastsource.ax"), You can use Zoom Player's Radio Manager to add ShoutCast stations (find stations at www.shoutcast.com) and start playing.  ShoutCast stations seem to be more reliable than the MMS Radio Stations.

Zoom Player now supports Extended MultiMedia control devices such as MultiMedia keyboards and additional buttons on explorer-type mice. I've included a few default commands, but you can expand/modify these, so take a look at "default.key" using a text editor. I've also included a list of known commands codes here: http://www.inmatrix.com/zplayer/mediacommandlist.shtml

Three new "ex" functions:
exSeekAhead allows you to seek forward a specified number of seconds.
exSeekBack allows you to seek backward a specified number of seconds.
exSeekTo allows you to seek to a Specified position.
See "default.key" file for more information on using "ex" functions.

Additional Customized Media Profiles for DTS in AVI files.

Can now associate AAC and APE extensions.

+ The Scene Cut Editor now works on a Millisecond accuracy rather than a Second accuracy.  This should provide for a slightly more accurate seeking.

+ When using the Next/Previous Skip/Jump/Seek commands in DVD Mode, the Microsoft DVD Navigator used to queue all these commands in sequence and then perform them one after the other rather slowly, in some cases, it may actually freeze.  I modified DVD seeking so that instead of actually seeking after each command, Zoom Player will queue these commands internally and not execute them until after about 2 seconds.  Each consecutive seeking command reset this timer, so at the end, only one seek command is being sent to the DVD Navigator.  This actually allows for faster DVD Seeking as the DVD Navigator isn't messing up multiple seek decoding buffers and other nasty stuff.  This modified DVD seeking mode also applies to seeking using the timeline.

+ The last played items will now be moved to the bottom of the Play History list.

- Some Matroska muxers were not specifying a stop position for the Matroska chapters.  I had to write a work-around to make the Next/Previous functions work properly in such cases.

- Cosmetic issue with the Options Dialog window title.

- The EQ Levels had a tendency to drift down.

- Under very rare conditions, the Options Dialog could pop off-screen.


News-Submiter: swgreed
News-Quelle: forum.inmatrix.com
Download: Software-Download
Download: Software-Download Deutsche Sprachfiles

---
Bedenken Sie bevor Sie einen Kommentar schreiben, dass Kommentare nur im unmittelbaren Zusammenhang mit der News stehen sollen - für andere Sachen ist das Forum da - WinFuture.de behält sich vor, unpassende Kommentare zu löschen und im Wiederholungsfall oder bei verbalen Entgleisungen dem WinFuture-Gast ggf. die Kommentarrechte, temporär oder auf Dauer zu entziehen!